General lighting in factory buildings and laboratories is often not enough to determine the quality of goods in production or testing. The lighting therefore needs to be tailored to the products being inspected – their surface structure, colour, reflections, size and the time taken to inspect them.
Diffuse, uniform and shadow-free light is perfect for inspecting matt, shiny or transparent objects, whereas directional light from one or more angles creates modelling shadows and makes it easier to identify scratches or cracks on surface structures. The former can be achieved by using pendant or surface-mounted luminaires at a distance from the work area to secure a high uniformity. The latter can be done with an arm-based task light or luminaires positioned closer to the inspection area. Luminaires with higher colour rendering may be required for colour comparisons.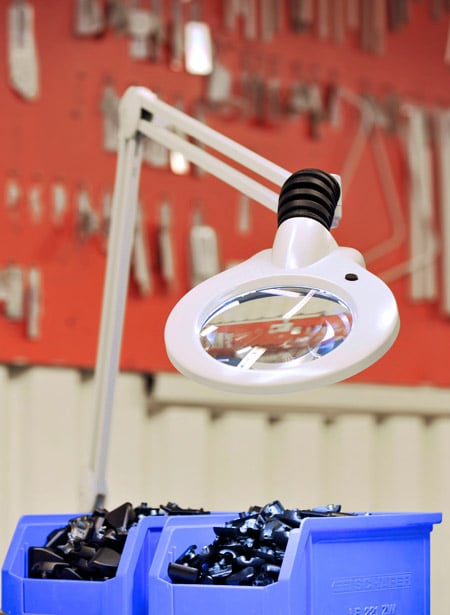 For the quality control inspection of tiny objects such as circuit board components, magnifying luminaires are the best option. Arm-based magnifiers with square-shaped lenses can switch the light on from both sides of the item being examined and cast modelling light, making the components stand out and errors easier to identify. In the electronics industry, ESD luminaires prevent electrostatic discharges from damaging the goods.
Lighting requirements in EN 12464-1


For chemical industry and textile manufacture and processing


Type of task / activity area


Lux-level (Em)


Glare rating (UGRL)


Uniformity
(U0)


Colour rendition
(Ra)


Em,z
Em,wall
Em,ceiling
Specific requirements


required
modified
U0 ≥ 0,10
Colour inspection
1 000
1500
19
0,70
90
150
150
100
4000 K ≤ CCT ≤ 6500 K
Cutting, finishing, inspection
750
1000
19
0,70
80
150
150
100

For food industry


Type of task / activity area


Lux-level (Em)


Glare rating (UGRL)


Uniformity
(U0)


Colour rendition
(Ra)


Em,z
Em,wall
Em,ceiling
Specific requirements


required
modified
U0 ≥ 0,10
Laboratories
500
750
19
0,60
80
150
150
100

For electrical and electronics industry


Type of task / activity area


Lux-level (Em)


Glare rating (UGRL)


Uniformity
(U0)


Colour rendition
(Ra)


Em,z
Em,wall
Em,ceiling
Specific requirements


required
modified
U0 ≥ 0,10
Electronic workshops, testing, adjusting
1 500
2000
16
0,70
80
150
150
100

For metal working and processing


Type of task / activity area


Lux-level (Em)


Glare rating (UGRL)


Uniformity
(U0)


Colour rendition
(Ra)


Em,z
Em,wall
Em,ceiling
Specific requirements


required
modified
U0 ≥ 0,10
Scribing: inspection
750
1000
19
0,70
80
150
150
100

For wood working and processing


Type of task / activity area


Lux-level (Em)


Glare rating (UGRL)


Uniformity
(U0)


Colour rendition
(Ra)


Em,z
Em,wall
Em,ceiling
Specific requirements


required
modified
U0 ≥ 0,10
Quality control, inspection
1 000
1500
19
0,70
90
150
150
100
4000 K ≤ CCT ≤ 6500 K

For vehicle construction and repair


Type of task / activity area


Lux-level (Em)


Glare rating (UGRL)


Uniformity
(U0)


Colour rendition
(Ra)


Em,z
Em,wall
Em,ceiling
Specific requirements


required
modified
U0 ≥ 0,10
Final inspection
1 000
1500
19
0,70
90
150
150
30

For rolling mills, iron and steel works


Type of task / activity area


Lux-level (Em)


Glare rating (UGRL)


Uniformity
(U0)


Colour rendition
(Ra)


Em,z
Em,wall
Em,ceiling
Specific requirements


required
modified
U0 ≥ 0,10
Test, measurement and inspection
500
750
22
0,60
80
150
150
100