SNÖ
Soft as the first fall of snow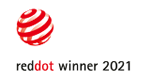 Description
Have you ever seen how the first snowfall softens its surrounding, giving all things a mellow presence? This comes to mind when we see SNÖ. Its soft design suits every environment. Can very well stand alone, or in groups combining different sizes.

Glass dome
SNÖ has a semi-transparent glass dome. By using a traditional glass forming technique each piece will have its unique differences. The luminaire has a light source embedded in a round soft diffuser which seems to be floating inside the glass dome.

Elegant design - professional quality
SNÖ is a decorative luminaire with quality and technique that meets the high demands of professional projects.
Technical specifications
Connection

5 pole 2x2,5 mm² push-in terminal block for mains connection in ceiling cup Push in terminal block in ceiling cup for connection from driver to LED

Driver

DALI driver combined with switch/dim for dimming with regular push button Driver mounted in ceiling cup

Mounting

2 or 5 meter wire and halogen/PVC free textile cable in black or white
Body material and colour

Silicone diffuser inside a white painted glass dome The dome is manufactured using a classic glass blowing techique, minor differences in the finish can occur between the individual glass domes

Optic

Silicone diffuser inside a white painted glass dome

Light Source

LED 700-1400 lumen out Colour temperature 2700, 3000 or 4000 K, CRI Ra 80 (90 on request), MacAdams 3 Tuneable white 2700-6500 K
Item type:
Showing 0 - 0 of 0 products