Motus Floor
motus is movement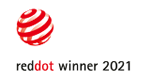 Description
Motus is movement
The ingenious 3-way movement lets your hand seamlessly set the head of Motus Floor in any position.

Motus Floor
The floor version comes with a choice of arm. It is available with one or two joints, adding to the flexibility of the luminaire. Both versions have the characteristic cup-shaped lamp head, with symmetric light output and the same flexible joint between lamp head and arm. Freestanding luminaires are easy to move around, offering a great deal of flexibility when arranging the lighting scheme in a room.

Luxo Colour Concept
Motus Floor is available in the Luxo Colour Concept
Technical specifications
Arm technology and movement

Floor-1 - Fixed arm / 1054 mm height Floor-2 - Adjustable arm / 1010 mm height + 449 mm adjustable arm head Ø9,6cm Pitch, Yaw & Roll* movement in head for effortless placement of head/light without any stop in motion *Pitch (up-and-down) Yaw (side-to-side) Roll (side-up-side-down)

Body material and colour

Motus Floor has a powder painted aluminium arm, head and base. Standard colours are black and white or any of the available colours in Luxo Colour Concept (Colour codes as below) Estate Green - S 4520-G Pleasant Green - S 2520-G30Y Silk Teal - S 2015-B70G Mild Citrus - S 1015-G50Y

Light Source

LED 800 lumen out when at 4000K Colour rendition index (CRI) 90 Dim to warm (D2W 4000-2700K), seamless dimDims down to 10%

Mounting

Motus Floor comes as standard with a floor base.
Timer

A shut-off function is integrated; the light will automatically shut off after 9 hours.This is programmable to 4 hours, see user manual for more information

Electrical specification

Plug in 18W power supply100-240V, AC 50/60 Hz

Optic

Symmetric light output with opal diffusor.
Item type:
Showing 0 - 0 of 0 products